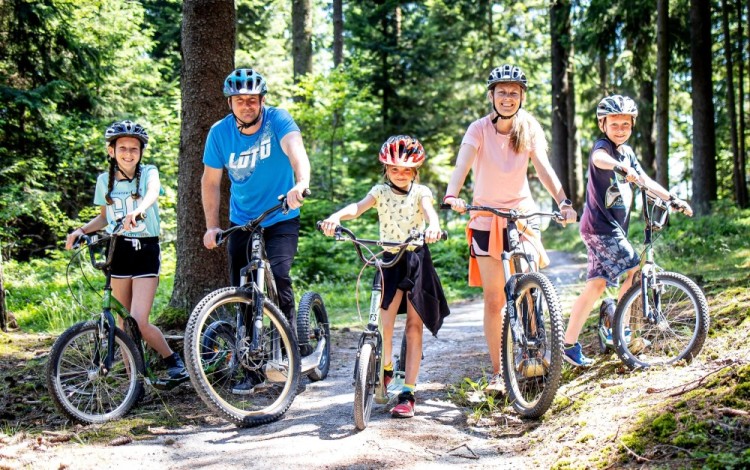 Intersport Rent Lipno - Treetop Walkway

Opening hours
6.4. 2023 – 10.4. 2023
10:30 - 17:00
11.4. 2023 – 27.4. 2023
Mo - Fr 10:30 - 16:30
Sa + Su 10:30 - 17:00
28.4. 2023 – 31.5. 2023
+ October till 29.10 2023
daily 10:30 - 17:00
June + September
daily 10:00 - 18:00
1.7. 2023 - 31.8. 2023
daily 10:00 - 19:00
This season you will also have the opportunity to enjoy this adrenaline sport, which has had considerable success.
We can provide you with the Mushing Pro model of downhill scooters from the company Gravity Scooters. This special model of all-terrain scooter with a front suspension fork and a wide deck plate for your feet provides you with a comfortable and safe ride.
We offer the children's Kickbike Freeride scooter for children aged eight and up. Helmet rental free of charge is assured.
In addition, this season we can offer an increased number of scooters which are available to rent from the summit of Kramolín near the Lipno Treetop Walkway.
The scooter trail is around 3.5 kilometres long and takes you along tarmac paths to unusual places which visitors do not otherwise see. Families with children will cope easily with the route. It is possible to change your speed depending on the location you are currently passing through.
Price list
Downhill Scooters
Prices with registration to the loyalty club Lipno.card
/
Prices without registration
Adult

250 CZK

/

278 CZK CZK

Child up to 15 years

160 CZK

/

178 CZK
Map of surroundings
Photo gallery